Thai Green Curry Paste Recipe (Nam Prik Gaeng Khiaw Waan)
This authentic Thai green curry paste recipe goes with our
Thai Green Curry Recipe
. The green curry paste works equally well with a main ingredient of your choice like beef, chicken, catfish or tofu.
You can store the curry paste in a small freezer storage bag up to one week refrigerated or frozen for up to 1 year.
Curry paste is traditionally prepared using a heavy granite stone mortar and pestle and it is essential to use fresh Thai ingredients to give a balanced, aromatic paste.
The chilies give the paste its color but often the result is more beige than green. If you want your curry paste to be green, we have a *tip that my help.
Also see our blog post Thai Green Curry the Hard Way.
Ingredients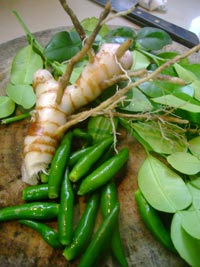 Preparation
Combine coriander seeds, cumin and peppercorn in a mortar, pound well. Transfer to a bowl and put aside.
Pound hot chilies and salt together well. Add the remaining ingredients except shrimp paste, pound until mixed well.
Add the cumin mixture and shrimp paste, continue pounding until smooth and fine.
Use only the lower part of the lemongrass. For the kaffir lime rind use only the green part as the white part is bitter. If available use all part of the coriander from root to leaves or substitute with just the tops.
Cooking Tips:

Popular Thai Cuisine
If you like this recipe you'll love the high quality recipes with beautiful photographs in the best selling Popular Thai Cuisine available in our Thai Cookbooks store.
Recipe Copyright © 2002 Sangdad Publications used with permission from Popular Thai Cuisine and is available in our store. Image Copyright © 2010 Temple of Thai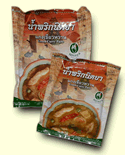 Preparing your own curry paste will give the best results for a truly delicious Thai curry. However, this can be time consuming and not always possible. So if you need your curry in a hurry and don't want to compromise on taste, try
Nittaya brand Green Curry Paste
.
Nittaya is an quick & tasty alternative to preparing your own curry paste. It's the best prepared paste we've tried and has been recommended by Epicurious.com and New York Magazine.