Homemade Khao Soi Curry Paste Recipe
Here's a simple to make Khao Soi curry paste recipe to for use in making Khao Soi Curried Noodles. If you don't have the time to prepare your own Khao Soi curry paste you can use ready-made red curry paste and mix in some curry powder as a shortcut. We do of course recommend that you prepare your own homemade curry paste for best results.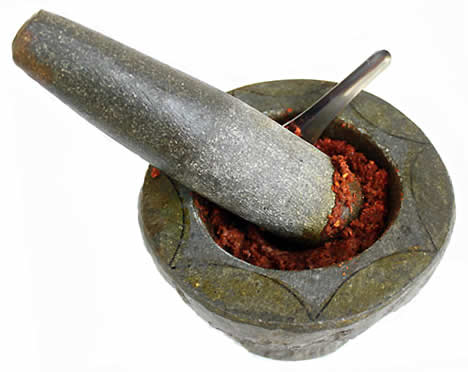 Ingredients
1 tsp. Curry Powder
1/2 tsp. salt
15 large Dried California Chili Peppers, de-seeded, soaked 10 minutes & chopped
2 tblsp. fresh Galangal, skin removed, chopped
6 tblsp. fresh Lemongrass, lower 1/3 only, sliced thinly
5 tblsp. coriander root, chopped (or lower portion of coriander)
6 tblsp. shallots, chopped
3 tblsp. garlic, crushed
3 tblsp. fresh ginger, chopped
1 tblsp. Shrimp Paste
1 cup water
Preparation
Put all the paste ingredients into a small blender or food processor and blend until smooth. Or use a mortar and pestle. Use just a few tablespoons of this curry paste to make Khao Soi.
Recipe © 2000 Sompon & Elizabeth Nabnian

A Passion for Thai Cooking
Recipe Source: Passion for Thai Cooking by Sompon & Elizabeth Nabnian, Chiang Mai Thai Cookery School.
This cookbook is available in our online Thai food store.