Massaman Curry Paste Recipe (Nam Phrik Kaeng Massaman)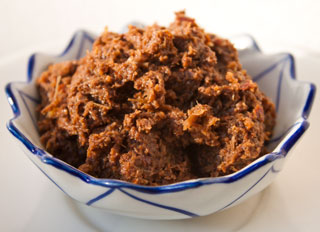 Massaman Curry Paste(Click to enlarge) This curry paste can be used to make massaman curry — a popular Muslim-style curry from southern Thailand.
A heavy granite mortar and pestle is particularly useful for bringing out the full flavor of the spices when making this curry paste.
See our delicious Massaman Curry recipe that accompanies this homemade curry paste recipe.
Ingredients
Preparation
If using whole dried spices, pulverize in a small electric blender container or a granite mortar and pestle. Then pound together all of the ingredients in a mortar and pestle except the shrimp paste until finely pulverized with no visible chili pieces. Last mash in the shrimp paste with the pestle. Set aside until time to add to your Massaman Curry recipe. Freeze any leftovers in a zip-lock bag in table-size portions.
Recipe and Images © 2010 Temple of Thai
Also see: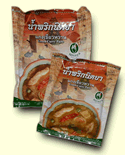 Short on time but still want to make delicious Massaman?
Preparing your own curry paste gives the best results but there isn't always time...
Nittaya curry paste is the best prepared curry paste we've tried but don't take our word for it — give it a try!
"intensely delicious curries without the effort." ~ epicurious.com