Dried Coriander Seeds

,

Imported from Thailand

, 3.5 oz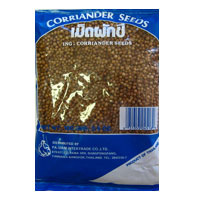 Whole Thai coriander seeds (เม็ดผักชี luk pak chee in Thai) are smaller than Western varieties and have a sweeter more fragrant flavor. Grind as is or dry roast first to bring out the flavor. Read how to properly dry roast spices. Add coriander seeds to curry pastes, marinades and dipping sauces. Whole seeds are preferable to ground coriander as they retain the aromatic oils better.
Andy Ricker even brings his own Thai coriander seeds back to the US for the Pok Pok restaurants, because the taste is not the same as coriander seeds you will typically find in your local supermarket. "The tiny, round beads provide a warm, nutty, spicy flavor to curries. that is different from Mexican coriander seeds, which has a more hot-doggy flavor" (quote from New York Serious Eats, Thai Grocery Shopping with Andy Ricker).


In Southeast Asian cuisines, coriander is an important spice for many curry pastes, when mixed with cumin and turmeric. For the best results, you should always use whole seeds and grind for a much better flavor compared to ready made coriander powder.
Store tightly sealed in a cool place.
See recipes using coriander seeds: Thai Green Curry Paste, Red Curry Paste, Peanut Sauce for Satay and Massaman Curry Paste.
Ingredients: Whole coriander seeds. Product of Thailand.
Availability: Ships in 2-3 business days from Los Angeles, California.
SKU: 3121052007