Homemade Red Curry Paste Recipe (Khrueang Kaeng Phet)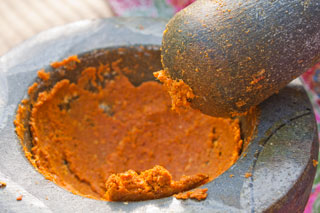 Making Red Curry Paste (Click to enlarge) Prepare this authentic Thai curry paste to make our family's Thai Red Curry recipe. You'll need fresh Thai ingredients, a mortar & pestle and a bit of spare time.
Freeze any leftover paste up to 2 months in a zip lock bag, in tablespoon size portions, making it easy to add to future curries as needed.
Ingredients
Preparation
Pulverize in a granite mortar and pestle the dried chillies, sea salt, garlic, lemongrass and turmeric to a fine paste. Blend in the shrimp paste with a spoon. Set aside.
---
See more Thai curry paste recipes:
Recipe and Images © Temple of Thai 2010