Panang Curry Paste Recipe (Nam Prik Kaeng Phanaeng)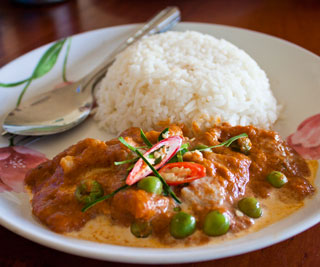 Panang Curry with Beef (Click to enlarge)The Panang curry paste in this recipe is made up of shallots, galangal, lemongrass, kaffir lime peel, white pepper, cilantro root and shrimp paste.
Roasted cumin and coriander seeds are usually added and may certainly be pounded into the paste (1-2 tsp of each).
Peanuts can also be pounded into the curry paste but in our recipe the peanuts are added to the boiling coconut milk mixture.
See our recipe for making Panang Curry with Beef.
Dried Ingredients
Fresh Ingredients
Preparation
Put the coriander seeds, cumin seeds, mace, long green peppers, cardamom pods and black peppercorns into a mortar and grind them into a powder using a pestle. Then add the rest of the ingredients and pound using a pestle for about 10 minutes until the paste is smooth. Or all the ingredients for the paste can also be put into a blender or food processor and liquidized. If the paste is too dry to liquidize then you may need to add a bit of water.
This recipe will make about 4-5 tablespoons (100-130g) of curry paste.

Passion for Thai Cooking - Chiang Mai Cookery School
This recipe comes from the beautifully photographed Passion for Thai Cooking cookbook.
This title is available to buy in our Thai cookbook store.
Recipe © 2000 Sompon and Elizabeth Nabnian, Chiang Mai Cookery School. Image © Temple of Thai 2010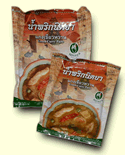 Preparing your own curry paste gives the best results for an authentic and delicious panang curry but is very time consuming. So if you need your curry in a hurry and don't wish to compromise on taste, we recommend our ready-made
Nittaya
brand
Panang Curry Paste
.
Nittaya is a delicious, quick and simple alternative to preparing your own curry paste. It's the best prepared curry paste we have tried and as a fellow Thai curry lover we're sure you'll agree.