Whole Kaffir Lime Fruit

,

Temple of Thai

, 3 pc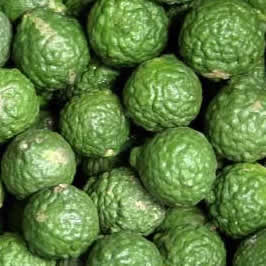 PLEASE READ PERISHABLE
TERMS OF SHIPPING
BEFORE ORDERING.
Kaffir Lime Fruit (lo magrut in Thai, leech lime, citrus hystrix) is bitter and slightly fragrant juice has acidic taste.
Available on a limited basis now from SEPTEMBER-OCTOBER only! Both the leaves and fruit of the kaffir lime tree can be stored for up to a year frozen, so stock up now.
The bumpy skinned lime peel is used for preparing Thai curry pastes. The juice is not normally used in Thai cooking, but can be used as a hair rinse.
A unique way to use Kaffir Lime Peel is to garnish Mee Krob, Thai Crispy Noodles in Sweet and Sour Sauce. More often kaffir lime rind is featured in curry paste recipes, like Red Curry Paste, Red Curry Paste (Nam Phrik Kaeng Daeng) or Thai Green Curry Paste (Nam Prik Kaeng Khiaw Waan).
To store, rinse the fruit with tap water and dab dry with a towel, then store in the refrigerator or for longer storage the freezer, to retain essential aromatic oils.
Also see Dried Kaffir Lime Peel.
PLEASE READ PERISHABLE TERMS OF SHIPPING BEFORE ORDERING.
Ingredients: Whole kaffir lime fruit. Product of USA.
Availability: Ships in 2-3 business days from Los Angeles, California.
Category: Pok Pok Ingredients, Fresh Produce
SKU: 8200000048