Deep-Fried Fish with Tamarind Sauce Recipe (Jean Plah)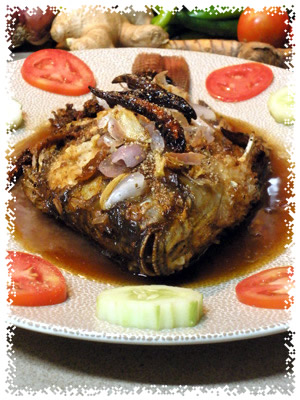 This delicious Thai recipe from the Prem Organic Cooking School in Northern Thailand, can be made with ingredients on hand in the pantry and a frozen whole fish, yet it is good enough for a party or special dinner occasion, making it perfect for busy modern life.
Ingredients:
5 shallots, grilled and crushed
10 small cloves garlic
10 dried Anaheim chilies, cut into 2 inch strips
1 lb (500grams) Red Snapper, Tilapia or similar firm white flesh fish
1 cup (250ml) water
3 tablespoons (45ml) tamarind paste
3 tablespoons (45ml) palm sugar
2 tablespoons (30ml) fish sauce
10 white peppercorns
Preparation:
Over high heat, quick fry shallots in a dry wok or skillet until peels are burned, about 15-20 seconds. This will bring out the shallots aroma. Remove charred peel and crush.
Crush the garlic and set aside. Put a 1/2 cup (125ml) of the oil in a saucepan over low heat. Add the garlic and keep stirring until it turns slightly yellow or about 1 minute. Transfer the garlic to a plate lined with paper towels.
Add chilies to oil and deep fry over low heat for 30 seconds. Transfer to another plate lined with paper towels.
Add the rest of the oil and heat over high heat. Carefully add the fish and let it cook about 5 minutes on each side. Using a fork probe the fish meat, if the fork sticks with the meat the fish is not yet cooked. After the fish is cooked, transfer to a plate lined with paper towels and set aside.
Add the tamarind paste, palm sugar, fish sauce and water in a saucepan over medium heat for 5 minutes. Add the peppercorns and stir to mix well. Taste and adjust to balance the saltiness, sourness and sweetness. Turn off the heat. Set the fish on a serving plate and pour the sauce over the fish. Top with garlic, shallots and chilies. Serve hot with steamed jasmine rice.
Recipe source: The Prem Organic Cooking Academy Recipe Booklet, by Su-Mei Yu, Chiang Mai, Thailand.
---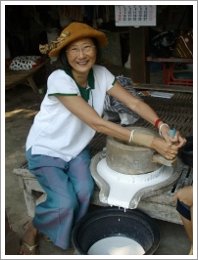 Su-Mei Yu is the author of "Cracking the Coconut", which won an IACP Cookbook Award in 2000 in the First Book Category, and "Asian Grilling". Her third book, "Elements of Life" will be published by Wiley and Sons and is to be released in October, 2009. She is chef-owner of the Saffron restaurant in San Diego, California. Su Mei Yu offers Thai cooking classes filled with techniques, history, stories and recipes. She has written for numerous publications, including Fine Cooking and Food & Wine magazine. Find out more about Su Mei, at her active Thai cooking blog (which also include Thai recipes and cooking videos).
The Prem Organic Cooking Academy was established in November 2007 with Su Mei Yu as its Senior Advisor. Su-Mei has painstakingly designed the overall framework of the Prem Organic Cooking Academy, adhering to strong traditional Thai beliefs. Stringent guidelines have been implemented in staff training, class layout and procedures, farm productivity, cooking implements, recipes, and the environmentally friendly discipline of using no plastics. The school strives to bring Thai traditional ways of life back into day to day living, using seasonal and regional produce.
For the first time, in October 2009, during Thailand's Annual Vegetarian Festival, the Prem Cooking Academy will host a Four Day Thai Vegetarian Cooking Class and Cultural Excursion. Lodging for guests is available in the Prem campus apartments, north of Chiang Mai. Students will learn to cook healthy and traditional Thai-vegetarian dishes, and will also take part in religious and cultural experiences related to the philosophy of vegetarianism. The first session is from October 12 to 16, 2009. For more information please see the Prem Organic Cooking Academy website.
Recipe Copyright © 2007 Prem Organic Cooking Academy