Thai Seafood Salad Recipe (Yam Talay)
You can use any selection of seafood that you like for this simple and popular Thai salad recipe. Note the seafood needs to be cooked before it is added to the salad. To blanch seafood, use just enough water sufficient for cooking. When cooked fish out the seafood with a wire mesh strainer. Reserve the cooking water to use for stock. If you are using crabs or lobsters, it is best to steam them.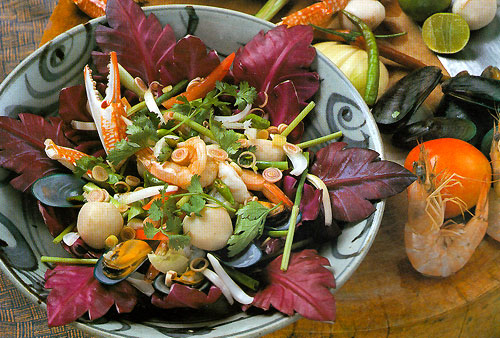 Ingredients
1lb (150g) crab meat
1lb (150g) squid - cut into pieces
1/3lb (50g) mussels (meat only)
1/3lb (50g) fish fillet - cut into pieces
1/2 lb (100g) shrimp (prawns) - washed, peeled and de-veined
4 tblsp (60ml) fish sauce
5 tblsp (75ml) lime juice
20 small fresh green and red chilies - finely chopped
1 tsp (5ml) melted palm sugar
3 stalks of fresh lemongrass - lower 1/3 only, thinly sliced
1/2 medium onion - thinly sliced
1 tomato - cut in 1/2 and thinly sliced length-ways
1/2 cup (20g) Chinese celery - roughly chopped
4 spring onions - cut into 1 inch pieces
Preparation
Put some water into a pan and bring to the boil. Cook the crab meat, squid, mussels, fish and prawns separately. Once cooked, mix the seafood together and set aside.
Put the fish sauce, lime juice, chilies and melted palm sugar into a bowl and mix together. Add the seafood and stir well so that the seafood is well covered in the sauce. Add the lemongrass and mix together. Then add the onion and mix again. Finally add the tomato, Chinese celery and spring onions.
Mix together and serve immediately.
Recipe and Image Copyright © 2000 Sompon and Elizabeth Nabnian

Passion for Thai Cooking Cookbook
This recipe is adapted from the beautifully photographed Passion for Thai Cooking cookbook.
This title is available to buy in our Thai cookbook store.