Spicy Thai Beef Salad Recipe (Laab Neua)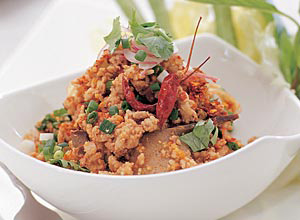 Our recipe for the popular dish of Laab is a delicious Thai spicy meat salad which originates from the North East of Thailand (the Isan region).
Preparation is quick & simple. Traditionally served with tasty, chewy steamed sticky rice but goes equally well with Thai jasmine rice and accompanied with other Thai dishes (particularly Isan-style dishes) and plenty fresh vegetables for a rounded meal.
Laab is traditionally served very spicy and sour but the recipe here is moderate in heat. Add or subtract seasoning as desired, tasting as you mix. Add more fish sauce, lime juice, or chile peppers to taste. Serve hot or at room temperature.
Ingredients
Preparation
Chop beef fine, if necessary. Combine with lime juice, fish sauce, galangal powder and shallots. Heat a skillet or wok and cook meat until no longer pink. Remove from heat. Add the sticky rice powder, scallion, cilantro, dried red chile powder. Mix to combine well. Spoon onto a serving platter and garnish with mint leaves and Thai chiles. Serve with raw vegetables such as long beans, basil leaves, spinach, etc.
Also see: