Kasma's Thai Spicy Eggplant Salad (Yam Makeua Yao)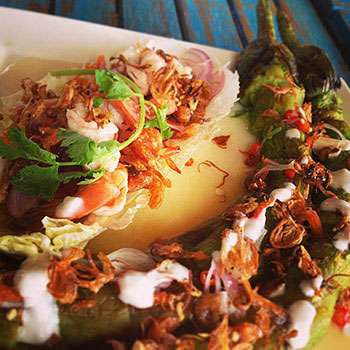 Enjoy this delicious Thai salad during the out-door months. The smokiness of the fire does wonders to improve the taste of eggplant. Serve with chicken or other grilled protein.
Ingredients
Mesquite charcoal and a small handful of mesquite wood chips
4 long Asian eggplants
4 jalapeño or fresno peppers
10-15 Thai chillies (bird peppers), finely chopped
Juice of about 2 limes, to taste
2-3 Tbs. fish sauce, to taste (Golden Boy is preferred)
2-3 tsp. sugar, to taste
2 shallots, thinly sliced
1/4 lb. small fresh shrimp, shelled and butterflied
1 hard-boiled egg, cut into small wedges (6-8 pieces)
A small handful of short cilantro sprigs
Preparation
Start a batch of mesquite charcoal in a barbecue kettle and soak the wood chips. While waiting for the coals, trim the tops off the eggplants and the peppers. Make a hot-and-sour sauce by mixing together the chopped Thai chillies, lime juice, fish sauce and sugar. Let sit for the flavors to blend and mingle.
Prepare the remaining ingredients. Blanch shrimp in boiling water for 30 seconds to cook. Drain well and set aside.
Grill the eggplants and peppers whole over the hot mesquite, turning occasionally until they are slightly charred on the outside and have softened. For a stronger smoked flavor, add damp wood chips to the red coals and cover the barbecue kettle after each turning.
Place the grilled eggplants and peppers in a paper sack for a few minutes to steam. When cool enough to handle, peel off the charred skin and thin outer membrane. Cut each eggplant crosswise into segments about 1 1/2 inches long, each segment in half lengthwise, and each half in 2-3 strips, depending on the size of the eggplant. Arrange on a serving platter and spread the sliced shallots over the top.
Cut the skinned peppers into long, thin strips. Do not remove the seeds if you want an extra spicy salad. Arrange in an attractive design over the eggplants and shallots and top with the cooked shrimp.
Taste and adjust the spicy lime sauce so that it is equally sour and salty with a hint of sweetness. Spoon evenly over the salad. Garnish with egg wedges and cilantro. Serve at room temperature.
Serves 6-8.
Shop for Thai Food Ingredients!
Recipe Copyright © 1997 Kasma Loha-unchit. Image Copyright ©2012 Rujapa Tantrakool.