Laab Moo Recipe
North Eastern Thai-style Spicy Pork Salad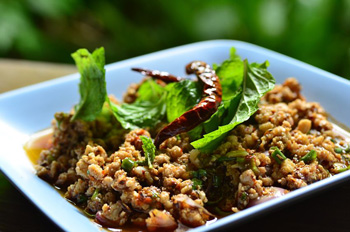 Laab Moo, Isan Thai Pork Salad (Click to enlarge) Laab Moo is a dish originating from the North-East (Isan) region of Thailand. It is popular throughout the country and you will find it at eateries from the very North to the deep South. Traditionally it's eaten with sticky rice and other Isan favorites such as Som Tum (Spicy Green Papaya Salad).
Watch the video below for Kai's instructions for a even more simple version of this classic Thai recipe.
Ingredients
Preparation
Mince the pork (we like Kai's two knife technique in the video below though a mincer or food processor will work just as well). Do not chop too finely, so that the meat retains some texture.
Add water to a hot pan and add the minced pork. Cook for 3 minutes stirring continuously until dry.
Add the kaffir lime leaf and the toasted rice. Stir well and turn off the heat. Add chopped shallots or spring onions.
Add dried chili powder and fish sauce and stir well.
Add lime juice and fresh Thai chili peppers and stir thoroughly once again.
Serve on a dish and garnish with mint and/or spring onion.
Notes: Do not grind the rice powder too finely, as it is more delicioius with some texture. The kaffir lime leaf is optional, but it is a very delicious and fragrant addition, so definately seek it out (available for purchase in our online grocery). Also spring onions can be used instead of shallots, but the shallot is a nicer addition, adding a little bit of sweetness to the dish.
Recipe Copyright © 2012 Temple of Thai; Image Copyright © yencha / 123RF Stock Photo
Cooking Video: Kai's Easy Laab Moo Recipe
See more authentic Thai recipes for Laab salad: