Thai Fish Steamed with Chili and Lime (Plah Neung Manao)
Thai Fish Recipes
This is the most popular steamed fish dish in Thailand, served with a spicy Thai chili pepper, garlic and lime juice sauce. In Asia fish is always steamed whole, but if you prefer to use fillets simply reduce the cooking time. Red chili peppers are mainly for added color, so if you have ripe Thai chili peppers (prik kee noo), omit the milder chilies. Best of all, steamed fish is one of the quickest and healthiest main dishes to prepare.
Ingredients
1 - 1 1/2 lb very fresh whole fish (for example red snapper, trout, perch or bass), cleaned and gutted
2 stalks lemongrass (bottom portion only)
8 - 12 cloves (200 grams) garlic, chopped
10 - 12 Thai chili peppers (prik kee noo), sliced
2 - 3 red chili peppers (fresno), sliced
1 Tbsp chopped cilantro root or 1 1/2 Tbsp chopped cilantro stems
3 Tbsp fish sauce
1/4 cup fresh-squeezed lime juice
1 tsp white sugar
1/4 cup chicken broth (or 1/2 cube Knorr Chicken Bouillon mixed with 1/4 cup water)
Banana leaf (optional) or aluminium foil
Preparation
Cut 3 - 5 diagonal slashes across the fish, about 1 1/2 inches apart on both sides, using a very sharp knife.
Put lemongrass into cavity of the fish. Cover a heatproof plate which is smaller then the steamer by a few inches, with banana leaf or foil, so that the steam can circulate around the fish. Place the fish on top of the banana leaf or foil covered plate.
Bring 2 inches of water to boil over high heat in the bottom of the steamer. Reduce the heat to medium before removing the lid from the steamer, lifting the lid away from you and allowing the steam to dissapate before placing the plated fish onto the top rack of the steamer. Cover and steam for 10 - 12 minutes. If you plan to use the heated platter, undercook the fish somewhat but if you are serving it directly on a plate, then steam until cooked through.
While the fish is steaming, in a bowl mix chopped garlic, chili peppers, cilantro, chicken broth, fish sauce, lime juice and sugar. Taste to adjust seasoning - the taste should be a balance of spicy, salty and sour. Set aside.
When the fish is cooked to the desired degree, remove the steamer frome the heat and transfer the hot fish to a Thai Fish-shaped Heated Serving Dish or serving plate. The fish-shaped dish can be heated with either hot charcoals (see note below) or more conveniently with a Sterno can placed in the lower chamber of the dish.
Notes: If you steam the fish outdoors using the Thai Charcoal Outdoor Stove, you will have the charcoal ready for heating the fish platter.
Serves 3-4 family style, with other dishes and jasmine rice.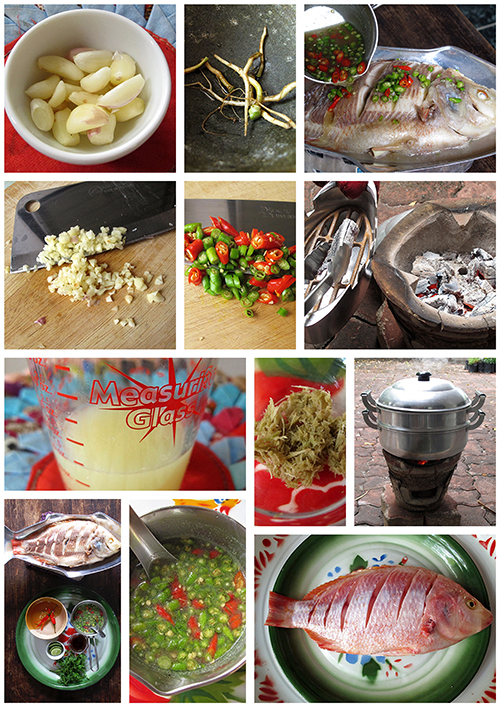 Recipe and all images Copyright © 2013 Temple of Thai, recipe adapted from Dancing Shrimp, Favorite Thai Recipes for Seafood, by Kasma Loha-Unchit, pp.158-159
Welcome to the Temple of Thai, online Asian food grocery!