Thai Charcoal Outdoor Stove (Tao)

,

Product of Thailand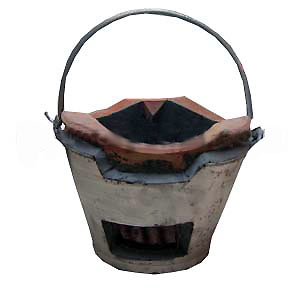 This old-fashioned Thai Charcoal Stove (tao) is still widely in use in Thailand, both at home an in the market. For the modern home, it is not only great for BBQ, but also perfect for wok cooking outdoors. In Thai kitchens, stick charcoal is common, but briquettes can be used in the West.
Andy Ricker's favorite grill, according to Food and Wine, its a humble "clay-lined bucket called a tao that he tops with a small metal grate" for favorite Pok Pok restaurant dishes like Muu Satay.
The stove itself is made from clay and surrounded with cement and wrapped with a metal sheet. We love this stove, as it's very relaxing to sit outside on nice day cooking a curry, steaming sticky rice or even making Pad Thai. It's also perfect for grilling or barbecuing meats such as BBQ Chicken (gai yang) or Grilled Pork (moo yang). You'll often see Thai people take these on camping trips in the national parks or on a family day out by the waterfall.
Size: 10" width x 8 1/2" high (small) weight : 10 lbs
Also see, Thai Clay Fish Platter with Stove, Thai Fish-shaped Heated Serving Dish.
Most vendors these days use the convenience of bottled gas to prepare food but you'll also find the charcoal stove is still alive and well. This vendor is preparing food at a night market in North East Thailand but you'll find it's a common outdoor kitchen appliance in many households across Thailand especially in rural areas.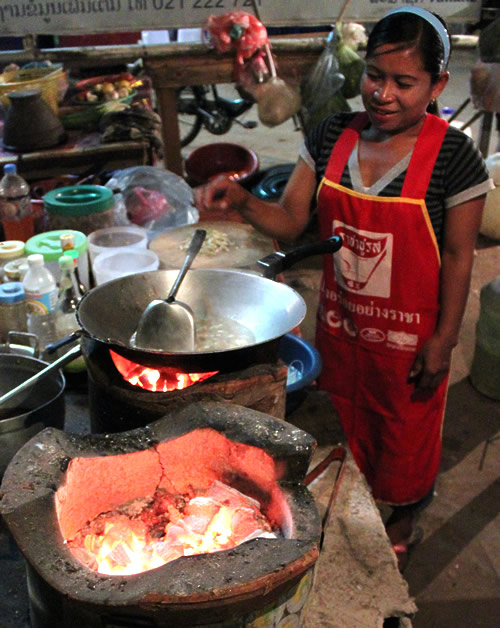 Availability: Ships in 2-3 business days from Los Angeles, California.
Category: Pok Pok Cookware, Grills, Hot Pots & Platters
SKU: 6200000562
Andy Ricker recommends these other great tools and cookware:
At the Least:
A Step Beyond:
For A Complete Pok Pok Kitchen: