Thai Green Curry with Chicken Recipe (Gaeng Kiaw Wan Gai)
This Green Curry recipe features chicken but could also be prepared with beef, pork or fish. If sweet basil leaves are not available, you may substitute European basil, or leave it out altogether. Serve this dish accompanied with a cooling soup, like Glass Noodle Soup (Gaeng Joot), stir-fry or steamed vegetables and of course steamed jasmine rice.
Ingredients
Seasoning Sauce Ingredients
Preparation
In a wok, heat coconut cream over a medium heat until boiling. Add green curry paste and stir well over a low heat for about 10-15 minutes or until just glossy.
Add chicken and boil for another 5 minutes.
Add seasoning sauce and coconut milk and bring to a boil. Add baby eggplants and continuing cooking for another few minutes until cooked through.
Add kaffir lime leaves, sweet basil leaves, and fresh green chilies. Remove from the heat. Spoon into a serving bowl. Garnish with sweet basil and fresh green chilies.
Notes: To make baby eggplants green, add to the curry and press the eggplants into the curry with a ladle. Do the same with the kaffir lime leaves and sweet basil leaves.
Main image © iStockphoto.com/Surakit Harntongkul; Recipe & other images © Temple of Thai 2010
Also See: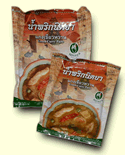 Preparing your own curry paste will give the best results but is time consuming. So if you need your curry in a hurry and don't wish to compromise on taste, we recommend ready-made
Nittaya brand Green Curry Paste
.
Nittaya is a quick & simple alternative to homemade curry paste. It's the best prepared curry paste we've tried and we're sure you'll agree.
"intensely delicious curries without the effort." ~ epicurious.com