Coconut Milk

,

Mae Ploy

, 19 fl oz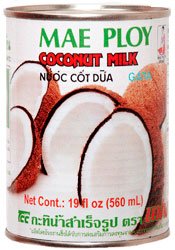 Coconut milk (nohm gkati in Thai) is a key ingredient in Thai cooking. Coconut milk is not the water of a coconut but rather it is white creamy liquid derived from finely grated and pressed coconut meat. This brand of coconut milk is recommened by Thai cooking instructor, Kasma Loha-unchit.
Rich Mae Ploy brand canned coconut milk has a crackable layer of coconut cream in cool weather (or refrigerate to separate out the cream from the milk). This coconut cream can be used for Thai dessert recipes and Thai curries. Mae Ploy brand is thicker and richer in fat content compared to their Chao Koh brand coconut milk and can be diluted with water if a thinner consistency is desired. It is much better to use this type of quality coconut milk rather then "light" coconut milks which are of inferior quality and often thickened with flour.
Mae Ploy brand coconut milk is great for curries, soups and desserts like Kasma's Pumpkin in Sweet Coconut Cream Sauce recipe. Also see our Thai recipe for Chicken in Coconut Milk.
More Thai recipes using coconut milk: Sticky Rice with Mango, Black Sticky Rice, Peanut Sauce for Satay, Yellow Curry, Fish Curry Steamed in Banana Leaf Cups, Kanom Krok, Green Curry, Shrimp Curry, Pork Satay, Thai Barbeque Chicken, Homestyle Red Curry and Yellow Chicken Curry
Is coconut milk healthy? Read our article Coconut Milk and Cholesterol.
Ingredients: Coconut extract, water, citric acid, and sodium metabisulfite. 20% fat. Product of Thailand.
Availability: Ships in 2-3 business days from Los Angeles, California.
Category: Canned Food, Coconut Milk
SKU: 4110023002