Sticky Rice with Mango Recipe (Khao Neow Ma Muang)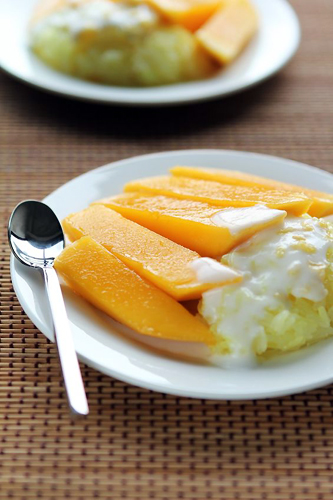 Mango with Sticky Rice (Click to enlarge)Mango and sticky rice is a hot season favorite in Thailand and not to be missed. Mango season coincides with the hot season between April and May.
A bed of sticky rice is infused with sweetened coconut milk and topped with slices of freshly cut mango and sometimes sprinkled with toasted split mung beans (tua tong) to add a crunchy texture.
Preferred varieties of Thai mango are the "Nam Dawk Mai" and "Ok Long" though you can make this dish other varieties of sweet mango if these are not available.
You may also occaisionally find a vendor offering durian fruit with sticky rice in place of mango.
Ingredients
Preparation
In a saucepan bring to a boil: rice, coconut milk, salt, sugar and 1 1/4 cup water. Stir. Lower heat and simmer, uncovered, about 8-10 minutes until all the liquid is absorbed. Remove from heat. Cover and let stand 5 minutes. Transfer rice to a steamer or double saucepan and steam 15-20 minutes over boiling water, until rice is cooked through. Mold the cooked rice into individual ramekins or small cups lined with plastic wrap. Cool to room temperature. At serving time unmold onto a plate and top with mango or even strawberries. Sprinkle with toasted mung beans to garnish.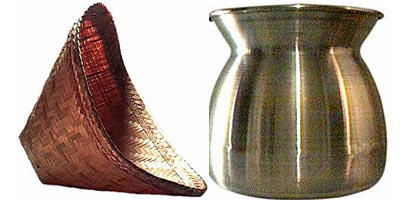 Notes: An Asian conical shaped bamboo basket and aluminium pot stove top steamer works best for this recipe, ensuring that your rice turns out light, fluffy and perfectly cooked through. The steamer set will simplify cooking and noticeably improve the quality of the finished dish.
If you compare sticky rice cooked in a conventional stove-top steamer side by side with rice from the Thai steamer the difference is apparent; rice cooked in the conventional steamer will be too moist and mushy in places and tough and underdone in others.
Commonly called a Thai sticky rice steamer, the bamboo or reed conical basket fits snugly on top of the aluminum steaming pot. It fits perfectly on a stove-top burner and steams the sticky rice efficiently and thoroughly. For a passionate cook, the sticky rice steamer is indispensable.

Step by Step Thai Desserts
Beautifully photographed, this book contains the most popular Thai dessert recipes in an easy to follow step-by-step format.
See our Thai cookbooks store for more details.
Recipe Copyright © 1999 Temple of Thai; Image © 2011 Harikan Siriattamethus/123RF.com