Chinese Sausage

,

Kam Yen Jan

, 1.0 lbs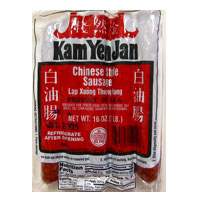 This "made in the USA" Chinese Sausage (guang chiang or lap chiang) is used as an ingredient in many dishes in southern China and throughout Southeast Asia. Dishes include fried rice, spring rolls and char kway teow, a popular fried noodle dish in Malaysia and Singapore and Thai Sausage Salad (yam guang chiang, see recipe below).
Lap cheung also appears in dim sum selections including steamed sticky rice in a bowl (nor mai fan), steamed Chinese sausage rolls (lap cheung guen), chicken and glutinous rice in lotus-leaf wrap (lo mai gai), and pan-fried turnip cakes (lo bok gow). It may also be stir-fried with any vegetable. This Chinese sausage adds a salty yet sweet zing to otherwise bland dishes.
No need to refrigerate until opened or for longer storage it may be frozen. It will keep several months refrigerated tightly sealed or indefinately in the freezer. This sausage is cured and needs no cooking.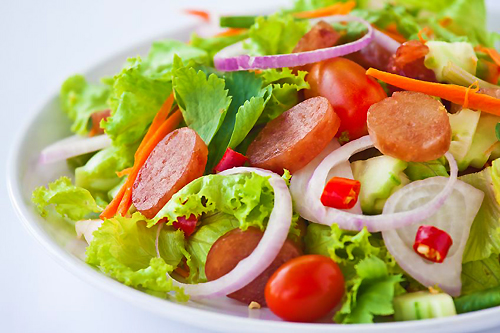 Dressing:
1/2 cup fresh lime juice
1 tsp fish sauce
3-4 tblsp sugar
1 tsp minced ginger root
1 tblsp minced garlic
Salad:
1 1/2 cup thinly sliced Chinese Sausage or Thai Sausage
1 cup thinly sliced red onion or shallot
3 cups sliced iceburg or butter lettuce
1 diced tomato
1 medium cucumber
Preparation
Combine lime juice, fish sauce, sugar, ginger and garlic in small bowl. Stir until sugar dissolves. Set aside.
Brown Chinese sausage slices over medium-high heat for about 3 to 4 minutes until lightly cooked. Set aside. Toss together lettuce, onion, tomato, and cucumbers in a large bowl. Add the sausage and dressing and toss again. Serve immediately.
Recipe © Temple of Thai 2010; Image © 2010 Piyachok Thawornmat/123RF.com
Ingredients: Pork, pork fat, soy sauce, salt, grain alcohol, sodium nitrite and sodium rythorbate. Product of USA
Availability: Ships in 2-3 business days from Los Angeles, California.
Category: Pickled & Preserved
SKU: 2800000304