Thai Chinese Sweet Sausage

,

Champ

, 12 oz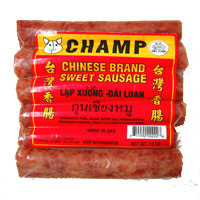 This USA made Thai Pork Sausage (goon chiang or lap chiang) is a Thai-style sausage made from high quality pork with less fat then Chinese sausage. The sausage is highly flavored and filled with a combination of chopped lean and fat pork and spices.
It may be simply fried or grilled and served with rice soup or steamed jasmine rice. It can be the basis of a Thai salad, yam guang chiang or added to fried rice.
To store, there is no need to refrigerate until opened or for longer storage it may be frozen or refrigerated for a considerable period of time. This sausage is cured and needs no cooking.
Also see Chinese Sausage for a recipe for Thai Sausage Salad.
Ingredients: Pork, sugar, water, salt, sodium nitrate, sodium erythorbate, edible collagen and sausage casing. Product of USA.
Availability: Ships in 2-3 business days from Los Angeles, California.
Category: Pickled & Preserved
SKU: 2800000434