Pickled Mustard Greens (2pkg)

,

Pigeon

, 5.0 oz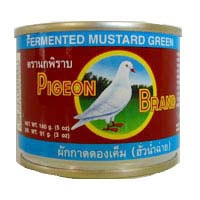 Pickled Mustard Greens (pak gad dong klhem in Thai ) can be eaten with rice soup or eaten as an accompaniment with other dishes like Thai traditional noodles (Kha Nom Jean) or Northern Thai noodles (Kao Soi). Pickled mustard greens are also found in many Asian recipes including streaky pork soup with mustard greens, spicy mustard greens salad or chopped mustard greens stir-fried with bitter melon.
Also see Pickled Mustard Greens and Pickled Hot and Sour Mustard Greens.
Ingredients: Mustard green, fish sauce, sugar, salt and monosodium glutamate. Product of Thailand.
Availability: Ships in 2-3 business days from Los Angeles, California.
Category: Canned Food
SKU: 4250000493