Pickled Mustard Greens

,

Product of Thailand

, 10.5 oz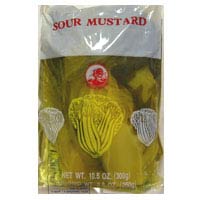 Pickled Mustard Greens, also called phak kard dong (Thai) or gai choy (Chinese) and are usually eaten with Thai rice soup, Thai salads or kanom jeen nam niow as side dishes. Because of it's crunchy texture, Thais normally prepare pickled mustard greens as a spicy salad mixed with other ingredients like preserved salted duck eggs and serve with plain boiled rice soup. Most popularly, pickled mustard greens are used as an ingredient in boiled pork soup. Thai people also eat pickled mustard greens with kao kha moo (rice with stewed pork leg with sliced mustard green on top).
Also see Pickled Hot and Sour Mustard Greens (2 pks) and Pickled Mustard Greens (2pks)
Ingredients: Mustard, water, salt, sugar, spices, food coloring and sodium benzoate. Product of Thailand.
Availability: Ships in 2-3 business days from Los Angeles, California.
Category: Pok Pok Ingredients, Pickled & Preserved
SKU: 2900000498