Kabocha Squash

,

Product of USA

, 2-3 lbs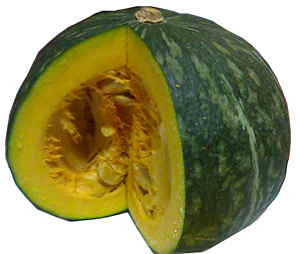 Kabocha (Japanese pumpkin) is a globe-shaped squash with a skin which is smooth and dark green with pale green stripes. The orange colored flesh is very sweet. Kabocha contains large amounts of vitamin A. The seeds are nutritious as well, full of essential fatty acids.
To prepare, remove seeds and set aside. Kabocha can be enjoyed cooked in the same manner as pumpkin or squash. For example, baked or steamed, the pulp is good cooked with butter, brown sugar, and ginger. Cut into chunks to add to vegetable soups.
Kabocha squash can be used in Thai cooking for making a puree of pumpkin soup or even more popular, the sweet dessert, Sankaya Fok Thong (Thai pumpkin custard). It is also great for Thai pumpkin curry, stir fry, and other Thai desserts.
See our Thai recipes using Kabocha squash: Pumpkin in Sweet Coconut Cream Sauce (Fuk Thong Gang Buad), Stir Fry Pumpkin with Pork and step-by-step directions for a Thai-style pumpkin carving.
PLEASE READ PERISHABLE TERMS OF SHIPPING BEFORE ORDERING.
Ingredients: Kabocha squash. Product of USA.
Availability: Ships in 2-3 business days from Los Angeles, California.
Category: Pok Pok Ingredients, Fresh Produce
SKU: 8000000411