What is Pad Thai?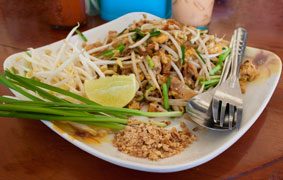 Pad Thai is a stir-fry dish comprising of rice noodles, tofu, bean sprouts and egg and is one of Thailand's best-known dishes. As with so much Thai food, this dish uses the combination of sweet, sour and salty to great effect. The contrast of textures is also important.
Soft rice noodles are flavored with a balance of sugar, tamarind, lime juice or vinegar and fish sauce. The addition of the following ingredients depends upon what is available to the cook: pork, chicken, and/or egg, firm tofu, shrimp, crunchy bean sprouts, roasted peanuts and salty pickled radish.
Each diner is free to adjust the dish to his taste at the table with dried ground red chilies, white vinegar, sugar and fish sauce. Fresh limes wedges usually garnish the plate.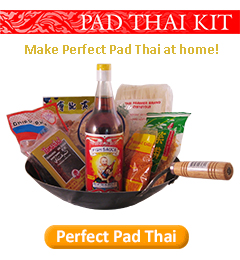 Ingredients for authentic Pad Thai include:
Stir fried together in a wok with plenty of vegetable oil (peanut oil is especially good), all manner of other ingredients can be added as a variation. For example, shredded cabbage or preserved turnip (pickled radish) adds a sharp, crunchy taste. Or for a Vegetarian Pad Thai simply omit the dried shrimp and pork and substitute soy sauce for fish sauce.

Pad Thai is usually served with a wedge of lime and sliced banana flower or cucumber rounds. When eating in Thailand, you will always find a selection of condiments at your table and most people will add white vinegar spiked with sliced hot green chilies, white sugar, fish sauce, and dried ground chili in amounts according to their personal taste.
In Thai restaurants in the US, the addition of ketchup has become common. This is not the usual way it is made in Thailand, but some Thais do use Sriracha, a red hot sauce (see our Pad Thai Kit).
A tasty Pad Thai can be made from ready-made Pad Thai sauce, which is convenient, but it is fun and easy to make from scratch if you have all the necessary ingredients.
Pad Thai was originally developed in Bangkok to serve busy office workers with fast, nutritious and delicious food to eat in their breaks, but nowadays variations can be seen on menus across the country.
Although the dish is now popular in many parts of Thailand the best Pad Thai is still to be found at the food stalls of Bangkok. Some of the food vendors there have been preparing nothing but the same Pad Thai dish for over 25 years! Pad Thai can be eaten as a light meal at any time but is especially popular in Thailand at the night markets.
Pad Thai is a favorite dish of so many people for very good reason and it is worth taking the time to master it properly.
Shop for Pad Thai Noodles & ingredients in our online Thai food market.