Vegetarian Pad Thai with Peanut Sauce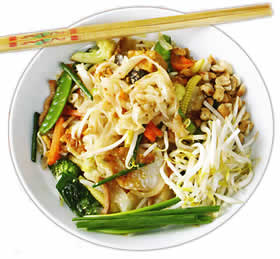 Solve the dilemma of what to serve your veggie friends by preparing this delicious easy vegetarian Pad Thai noodle recipe from May Kai Dee.
With the addition of the homemade Peanut Sauce this is sure to be very popular noodle dish. The Peanut Sauce can also be used as a dip, a salad dressing, an ingredient for spring rolls or as a base for other Thai dishes.
Pad Thai Noodle Ingredients
2 Tbsp oil of your choice
1 small handful each of shredded carrots, shredded onions and chopped tomatoes
1 small handful prepared tofu
1 tsp minced garlic
Presoaked, prepared rice noodles
1 Tbsp *soy sauce mixture (see note below)
1 tsp sugar
1 small handful fresh bean sprouts
1 small handful roasted peanuts
1 small handful chopped spring onion
I tsp lime juice
Chili flakes to taste
Preparation
Fry carrots, onions, and tomatoes in hot oil.
Add tofu, garlic, and a sizeable portion or noodles. Mix well together to combine the flavors and add soy sauce and sugar.
Finish off the Pad Thai with bean sprouts, spring onion, lime juice, and chili flakes to taste.
Sprinkle with crushed peanuts and serve with May Kaidee's Peanut Sauce (recipe below).
Peanut Sauce Recipe
Fry the chopped tomato in oil until it begins to disintegrate, then lower the heat and add red chili paste until fragrant.
Add coconut cream, peanuts, sugar, lime juice and soy sauce and stir until the sauce is rich and glossy.
*Soy Sauce Mixture - May's special blend used throughout her cookbook. Simply mix equal portions of Thai light and dark soy sauce. This may be kept at hand in a bottle for quick cooking.
Recipe & Image © 2007 Sommay Jaijong

Thai Vegetarian Cooking
This Thai recipe comes from Thai Vegetarian Cooking, available for sale in our Thai cookbook section.
See more Thai cookbooks for sale.