Vegetarian Roasted Chili Paste Recipe (Nam Prik Pao)
This vegetarian recipe from May Kaidee cooking school in Bangkok, can be used to make Vegetarian Tom Yum Soup recipe or simply enjoyed as a dip for fresh crudite vegetables with steamed jasmine rice. Note, sometimes this type of paste is referred to as Tom Yum Paste, which is not quite accurate.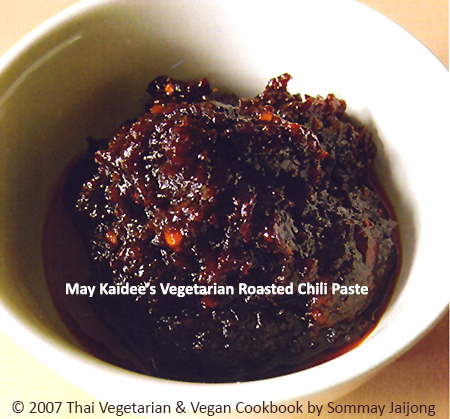 Ingredients
Preparation
In a wok, fry onion and garlic in hot oil until brown.
Separately, in a mortar and pestle, crush cashew nuts and sesame seeds and mix with chili powder, sugar, lime juice, miso, and soy sauce mixture.
Empty the contents of the wok (fried onion and garlic) into the mortar and pestle and mix thoroughly.
Finally, fry the entire mixture for about two minutes.
Recipe Copyright © 2007 Thai Vegetarian & Vegan Cookbook by Sommay Jaijong, May Kai Dee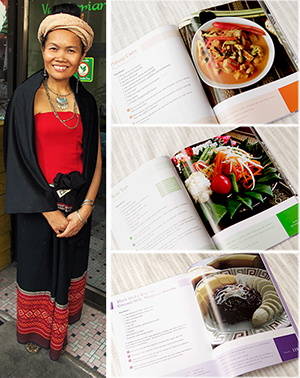 Thai Vegetarian & Vegan Cookbook
This recipe comes from Thai Vegetarian & Vegan Cookbook from the May Kai Dee Vegetarian Cookery School, Bangkok and is available for purchase in our Thai Cookbooks store.