Tofu with Garlic & Black Pepper Recipe (Tao-Hu Gratium Prik Thai)
Vegetarian Thai Food?
Hold the fish sauce please! Have you have had a hard time communicating your desire for a meatless diet in Thai restaurants? According to Thai cookbook author and chef Vatcharin Bhumichitr there is no ancient Thai vegetarian culture; rather vegetarianism has only recently started to catch on in Thailand.
Vegetarian Fried Tofu with Garlic and Black Pepper Recipe (Tao-Hu Gratium Prik Thai)
This recipe is a very simple and quick dish which you can prepare the night before or immediately before cooking. Recipe adapted from the highly recommended picturesque cookbook, Thai Vegetarian Cooking, by Vatcharin Bhumichitr © 1991.
Ingredients
2-3 shallots, peeled
1 tsp whole white or black peppercorns
2 tblsp Thai soy sauce or Golden Mt. Seasoning Sauce
1/2 tsp sugar
4 tblsp vegetable oil (not olive oil)
8 oz firm tofu, cut in half lengthwise, then cut each half into 4 triangles (8 altogether)
Garnish: thinly sliced shallots, cucumber slices, coriander leaves, tomatoes
Preparation
In a mortar and pestle or electric coffee grinder (used only for spices, etc) pound or grind together garlic, shallots, and peppercorns to make a paste.
Remove to a small bowl. Add soy sauce and sugar and stir to combine.
Spread the tofu out on a flat dish, cover with the mixture and allow to marinate 30 minutes or overnight.
Heat the oil in a skillet or wok, over medium heat, until hot, but do not allow to burn. Fry the tofu until golden brown. Turn on each side to brown evenly (including the cut edges). Drain and place on a serving dish. Garnish if desired with thinly sliced shallots, cucumber, coriander and tomato slices.
Recipe Copyright © 2000 and images Copyright © 2011 Temple of Thai
---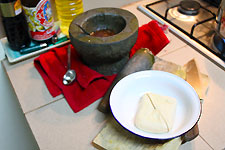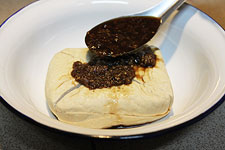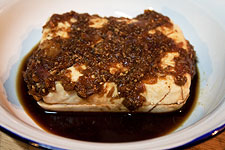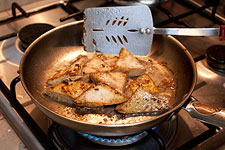 ---

Vegetarian Thai Recipe Book
See Thai Vegetarian cookbooks for sale in our online store or shop for Asian ingredients in our online Thai Food grocery.