Firm Tofu

,

Mori-Nu

, 12.3 oz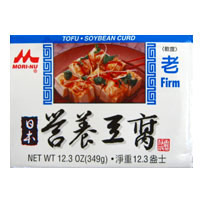 Firm Tofu (เต้าหู้ tao hu in Thai or soybean curd) is made from soybeans that are soaked, pureed and mixed with water and briefly cooked before being placed in a mold to drain and solidify. This type of tofu is still soft but will hold its shape during cooking.
Cream colored and custard like in consistency, tofu is bland in flavor, taking on the other flavors of the dish. It is high in protein, low in calories and contains no cholesterol.
There are several different type of bean curd, used for different types of dishes. Firm tofu is used for stir frying deep-frying, marinating, baking and braising.
This type of tofu in a box can keep for one year without refrigeration. To store once opened, cover with water and keep refrigerated, changing the water daily and use within a few days.
Ma-Po Tofu (Spicy Bean Curd with Ground Pork)
Drain water from tofu. Cube tofu into approximately 1 inch squares and set aside.
Heat pan and add cooking oil. Add ground pork and 2 Tbsp. oyster sauce. Cook until the pork is brown.
Add chicken broth to the pork mixture. Mix cornstarch with a little water and remaining oyster sauce to form a thin paste. Bring broth to a boil and add the cornstarch mixture, stirring constantly to desired consistency.
Add tofu and Huy Fong Chili Garlic Sauce, being careful not to break up the tofu. Turn heat to low and simmer for 2 minutes.
Sprinkle sesame oil and green onion on top of dish before serving. Serve over steamed Jasmine Rice.
Recipe copyright Huy Fong Foods
Ingredients: Water, soybeans. isolated soy protien, gluconolactone and calcium chloride. Product of Japan
Availability: Ships in 2-3 business days from Los Angeles, California.
Category: Pickled & Preserved
SKU: 2700000299