Chili Garlic Sauce

,

Huy Fong (Rooster)

, 18 fl oz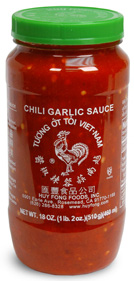 Huy Fong brand Chili Garlic Sauce (Chili-Garlic Sauce) is a a thick, chunky style hot sauce with a hint of garlic flavor. Huy Fong's chili sauces are made from fresh, red Jalapeno chili peppers and contain no water or artificial colors. The result is flavorful and spicy sauce.
Try this garlicy sauce as a topping for pizza, marinating meat, adding heat to chilies and soups, and spicing up salsas.
Made in the USA in Rosemead, California, the bottle is marked Tuong Ot Toi Vietnam. Food trivial pursuit fans take note that Huy Fong Foods, Inc. is named after the ship that brought the founder of the company to Hong Kong from Vietnam in 1978.
Refrigerate for up to one year.
See other Huy Fong sauces: Sambal Oelek and Sriracha Chili Sauce
Fried Spicy Bean Curd
1 box of soft tofu
1 egg
1 Tbsp. scallions (chopped)
1 tsp. Huy Fong Foods Chili Garlic Sauce
1/2 tsp. salt
1/4 tsp. sugar
1 lb. ground pork
1/4 tsp. salt
1/8 tsp. sugar
1/2 tsp. cornstarch
1/4 tsp. sugar
Marinate pork with Huy Fong Foods Chili Garlic Sauce, salt, sugar, and cornstarch.
Mash tofu and add egg, salt, sugar, white pepper and sesame oil.
Mix tofu with pork and scallions.
Steam tofu/pork mixture in Chinese soup spoons for 10 minutes.
Remove from spoons and cool.
Making sure tofu ovals are dry, pan-fry over low heat until golden brown.
Serving suggestion: Serve hot with steamed jasmine rice.
Recipe © Huy Fong Foods.
Ingredients: Chili, garlic, salt, distilled vinegar, potassium sorbate, and sodium bisulfite as preservatives. Product of USA.
Availability: Ships in 2-3 business days from Los Angeles, California.
Category: Chili Sauces
SKU: 5532300192