Sambal Oelek Ground Chili Sauce

,

Huy Fong (Rooster)

, 8 fl oz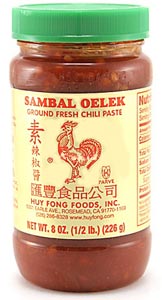 This Sambal Oelek (ground chili sauce or sambel) is an excellent high-quality, thick, Indonesian-style sauce made of ground chilis. Serve at the table as a relish to top rice and stir fry dishes.
Sambal Oelek is made of chilies with no other additives such as garlic or spices for a simple taste. Use this condiment to add heat to a dish without altering the other delicate flavors.
Sambal is the Indonesian word for fresh spicy chilies ground with salt. It is appreciated in Indonesia, Malaysia, southern India, Vietnam and Thailand served as an accompaniment to rice dishes, soups and curries.
Huy Fong brand is also known as Rooster or Chicken brand because of its logo.
Refrigerate after opening. Keeps for several months.
See other Huy Fong sauces: Sriracha Chili Sauce and Chili Garlic Paste.
Ingredients: Chili, salt, distilled vinegar, potassium sorbate, sodium bisulfate as preservative and xantham gum. Product of USA.
Availability: Ships in 2-3 business days from Los Angeles, California.
Category: Chili Sauces, Chili Pastes
SKU: 5531391081