Sriracha Huy Fong

,

Huy Fong (Rooster)

, 17 fl oz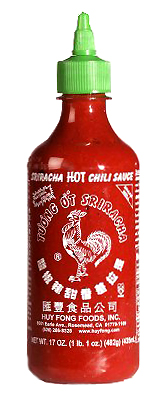 Sriracha from the Huy Fong company is becoming widely popular in the US, spurred on by culinary stars like French Chef Jean-Georges Vongerichten in New York City. Made from fresh, red chili peppers and vinegar with no artificial colors, the result is a rich, flavorful and spicy sauce which can be used on pizza, meats, in soups, dipping sauces, stir fries and salsas.
Manufactured in Rosemead, California, the bottle is marked 'Tuong Ot Toi Vietnam', leading some to believe it is an imported product. Food trivial pursuit fans take note that Huy Fong Foods, Inc. is named after the ship that brought the founder of the company to Hong Kong from Vietnam in 1978. Huy Fong brand is also known as Rooster or Chicken brand because of its logo. The maker of the product, David Tran, originally intended this product for use with Vietnam's beloved dish of Pho Noodle Soup. Now American restaurant chain, Applebee's has added Sriracha spiked mayonnaise dipping sauces to their menu!
The name Sriracha comes from the city of Sriracha in Thailand, which is famous for a different (original) version of this chili sauce (called prik sriracha or sawd prik in Thai). In the seaside city of Sriracha this chili sauce is famous as an accompaniment to Fried Oysters. Sriracha sauce is often added to Pad Thai, fried chicken or fried rice in Thailand. You may also purchase the original Thai verion of Sriracha here.
Sriracha is somewhat comparable in taste to the popular American Tabasco sauce, but with a less sour, more sweet, garlic taste and much thicker consistency. But in usage it is perhaps more comparable to ketchup as fans seem to love pouring it onto to french fries, chips and even popcorn!
This is a high-quality chili sauce. Packaged in a plastic squeeze bottle with a green cap, which is now often copied by competitors.
Also see Huy Fong Rooster Brand Sambal Oelek and Huy Fong Rooster Brand Chili Garlic Sauce. Refrigerate after opening.
Recipes using Sriracha:Thai Fish Cakes (Tawt Mon) and Thai Shrimp.
Ingredients: Chili, sugar, salt, garlic, distilled vinegar, potassium sorbate and sodium bisulfite as preservatives and xanthan gum. Product of USA.
Availability: Ships in 2-3 business days from Los Angeles, California.
Category: Pad Thai, Chili Sauces
SKU: 5143262040