Thai Sriracha Chili Sauce

,

Grand Mountain

, 17.5 fl oz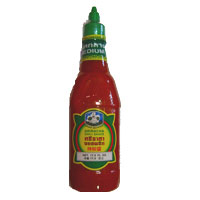 Thai Sriracha Chili Sauce, also known as prik sriracha, is not to be confused with Thai Sweet Chili Sauce. While both are used to intensify the heat of a dish, Thai Chili Sauce is more comparable in taste and usage to its American counterpart, Tabasco sauce, but with a less sour taste. This Sriracha Chili Sauce is a smaller bottle of this popular Thai-style hot sauce. Add this chilli sauce to Pad Thai, fried chicken, or fried rice. Also this crimson colored hot sauce is sometimes called sawd prik.
This is the original Sriracha from Thailand, not the rooster sauce with the green cap made in Los Angeles by Huy Fong Foods. Si Racha is a town located on the eastern seaboard of Thailand, where the namesake sauce was originally created to pair with the abundant seafood. Ground red chili peppers, sugar, vinegar, garlic and salt make up this original Thai sauce.
For longer shelf life, refrigerate after opening. Also see Sriracha.
Ingredients: Chili, sugar, vinegar, garlic and salt. No added color or preservatives. Product of Thailand.
Availability: Ships in 2-3 business days from Los Angeles, California.
Category: Chili Sauces
SKU: 5140252039