Thai Vegetarian & Vegan Cookbook

,

May Kai Dee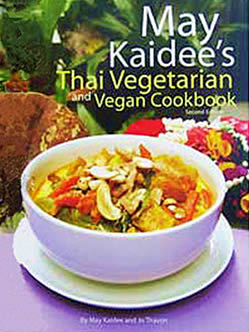 This new vegetarian Thai cookbook from the famous May Kai Dee Vegetarian Thai cooking school and restaurants in Thailand includes an introduction to Thai food and basic recipes like vegetarian Thai curry pastes, Sweet Chili Sauce, Spicy Sour Sauce and how to prepare tofu and dried soya protein. In addition you will find the following delicious vegetarian Thai recipes: Spring Rolls (both fresh and fried), Pumpkin Hummus and Pad Thai (see complete list of the recipes below).
Featuring meatless recipes this cookbook was inspired by a change of diet by the owner of the restaurant who was over weight and lacking in energy. Written from the heart, the recipes are simple and straight forward, with ingredients readily available in the market. Try out May's Peanut Sauce recipe below to get a taste of the delicious recipes in this health-inspiring cookbook.
Also see
Thai Vegetarian Recipes in this cookbook:
Green and Red Curry Paste
Sweet Chili Sauce
Rice Powder
Fried Garlic
Spicy Sour Sauce
Preparing Dried Soya Protein
Preparing Tofu
Preparing Glass Noodles
Spring Rolls (fresh and fried)
Pumpkin Hummus
Tempura Tofu or Seaweed
Seaweed Soup
Rice Soup
Pumpkin Soup
Noodle Soup with Vegetables
Green Papaya Salad (Som Tam)
Spicy Glass Noodle Soup
Vegetable Salad with Peanut Sauce
Sweet and Sour Carrot Salad
Eggplant Salad
Panang Curry
Fried Rice Yellow Curry
Pineapple Curry
Massaman Curry
Red Thai Curry
Green Thai Curry
Issa Vegetables
Fried Vegetables with Ginger or Cashew Nuts
Vegetarian Fish & Seaweed in Coconut Milk
Fried Rice Medley (Khow Opp Tan Ya Peud)
Fried Vegetables with Spicy Basil (Pad Graprow)
Fried Tofu with Ginger (Pad King)
Stir Fry Bean Sprouts with Vegetables & Tofu
Thai Steamed Vegetables
Stir-Fried Morning Glory
Tofu Sandwich
Thai Tea with Lime
Thai Tea with Coocnut Milk
Hot or Iced Thai Coffee
Papaya Shake
Mango Shake
Banana Shake
Mixed Fruit Shake
Black Sticky Rice with Coconut Milk, Mango and Banana
Pumpkin with Coconut Milk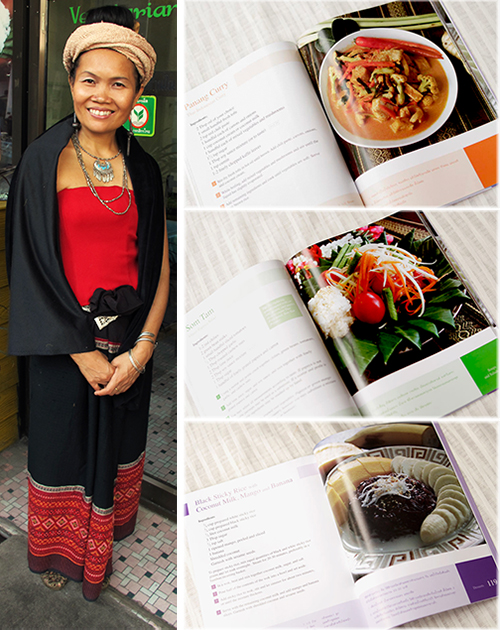 Availability: Ships in 2-3 business days from Los Angeles, California.
Category: Asian Cookbooks
SKU: 7010000321