Bamboo Skewers for Satay

,

Imported from Thailand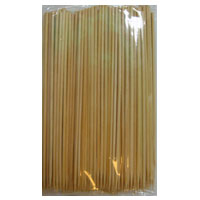 Pre-soak bamboo skewers in water for 10 minutes before skewering meat or tofu. Grill or broil and serve with our Satay Sauce or other Thai dipping sauces.
Approximately 100 bamboo skewers per package, 8" length.

Availability: Ships in 2-3 business days from Los Angeles, California.
Category: Satay, Cooking Utensils
SKU: 6250001128