Galangal Root (Dried Sliced)

,

Product of Thailand

, 7 oz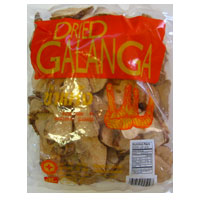 Galangal (aka galanga, galingale, ginza root, Siamese ginger, alpina galangal or huah kah in Thai) is said to sweeten the breath, clear the respitory passages and aid the digestion. Add dried galanga pieces to broths and coconut soups (but do not eat); the taste is surprisingly good in liquid based dishes. For curry pastes, soak in hot water to soften, but we advise not putting it into your electric blender, but rather to pulverize with a mortar and pestle. Store in a cool place for up to one year. Also see our fresh galangal root.
Ingredients: Galangal root. Product of Thailand.
Availability: Ships in 2-3 business days from Los Angeles, California.
SKU: 3211092415