Sticky Rice Serving Basket

,

Imported from Thailand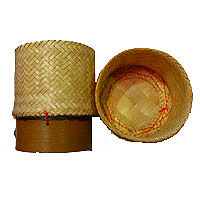 Serve each guest an individual serving of sticky rice in their own beautiful Bamboo Sticky Rice Basket (กระติบ grateep in Thai). The nested lid helps keep the sticky rice moist, especially if the steamed rice is covered with a damp cheese cloth, or line the container bottom with a large plastic sandwich bag for easy cleanup. This is the traditional way to serve sticky rice in North East Thailand, the North Chiang Mai area and Laos.
To remove any odor before using allow the basket to sit for a few days with a baking soda and water paste. Then scrub and rinse well before using.
Also see our Sticky Rice Basket (Set of 3)
Shop for a sticky rice steamer and sticky rice here.
Read more about Sticky Rice.
Handmade in Thailand. Size is approximately 5 inches diameter holding more than 1 cup. Please note that rice serving baskets may vary slightly in design and color.
Availability: Ships in 2-3 business days from Los Angeles, California.
Category: Sticky Rice, Serving Bowls & Baskets
SKU: 6210000225