Miracle Knife, Zig-zagged

,

Kom Kom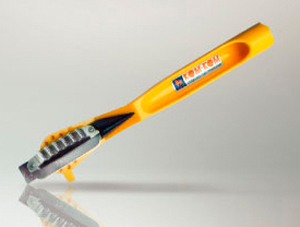 The nine and a half inch Kom-Kom miracle knife (Kom-Kom #18) is a versatile blade and julienne peeler which is an intelligently designed utensil integrating a wavy edged blade and a 'V' shaped blade together into one single, convenient cutting tool. Though perhaps most commonly used by Thai people when making spicy papaya salad, miracle knives have gained significant worldwide popularity as basic all-in-one garnishing tools. The multi-purpose blade rotates on a pivot so that the user can alternate between its many different functions. Dubbed as 'the miracle knife' by virtue of its many different uses, it can shred vegetables, peel, carve, and core fruits, slice vegetables into undulated segments and divide fruit into zigzagged halves.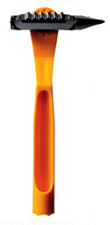 New York Times T:Style: "While not the prettiest knife in the drawer, this gadget is noteworthy for its beautifying capabilities: the V-shaped point carves fruit, the yellow nub splices citrus peels, and the handle cores apples; twist it horizontally, and it juliennes green papaya."
PopGadget: "Like a Swiss army knife for fruits and vegetables, the handle can core apples and julienne papayas. Then, you can rotate the blade to carve and peel."
The stainless steel blade is made to Kom-Kom's usual high standard, ensuring an excellent balance of sharpness and durability. It can be used to prepare green papaya and cucumbers for a green papaya salad in a matter of moments, saving time and effort and producing stunning results. 9.5" length; Kiwi Kom-Kom Brand (Item Number 018); Imported from Thailand.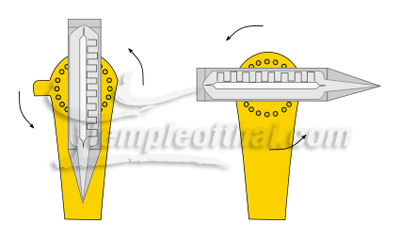 Kom-Kom knives are produced to an exceedingly high standard, boasting superior specifications to their cheaper selling variant, Kiwi. Known by reputation to be the very best knives that Thailand has to offer, Kom-kom's designs are both attractive and practically suited for everyday use. Their stainless steel blades consist of a dense carbon alloy that is first heat treated and then carefully tempered to ensure long-lasting sharpness and unrivaled durability.
Product Features
Authentic Kom-Kom brand knife imported from Thailand
An original invention with an adjustable blade
Can be used to peel, slice, core, julienne and divide into patterned segments
High-quality hardened stainless steel blade
Dishwasher-safe plastic handle
Availability: Ships in 2-3 business days from Los Angeles, California.
Category: Cutters, Peelers & Graters, Decoration Knives, Peelers & Slicers
SKU: 6253100200
UPC: 88511300601