Knife Sharpening Stone

,

Product of China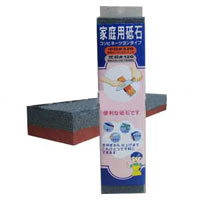 Knife Sharpening Stone (honing stone, whet stone) for sharpening your Kiwi Kom Kom brand knives and all your kitchen knives. Cooking with a dull knife is a chore, but preparing food with a sharp knife is a revolution! Made from natural stone.
To use, dampen the stone with water, and glide the knife at an angle across the stone, first on one side and then on the other. Remove any burrs that may have developed with a butcher's steel.
Product of China. The stone is 6" long, 2 inch wide and 1" thick. Net weigth: 1.00lb.
Also see Accusharp Knife and Tool Sharpener.
Availability: Ships in 2-3 business days from Los Angeles, California.
Category: Cooks Knives & Cleavers
SKU: 6250000270