8" Chef's Knife, Rectangle Blade, #22

,

Kom Kom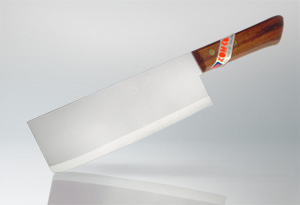 Like all chef's knives, the rectangular Kom-Kom brand chef's knife is an evolution of the butcher's knife, which is also very popular in Thailand. Designed as an all-purpose blade, the blade is approximately eight inches long and about two and a half inches wide. Unlike the closely related Kom-Kom Thai chef's knife, the knife edge is perfectly flat except for a slight curve towards the tip.
This knife is also available as a two knife set paired the with the Thai chef's knife which perfectly compliment one another.
Amongst its many uses, the Thai chef's knife is primarily intended for executing common tasks such mincing, slicing, chopping vegetables, slicing meat, and disjointing large cuts of beef or pork. However, this knife is perhaps better suited than the Thai chef's knife for cutting hard vegetables and sturdier types of bone found in pork and beef. Ultimately, there are no strict rules when it comes to chefs knives; the uses of each depend largely upon the personal preferences of the chef. Some fruit and vegetable carvers also prefer to use chef's knives in addition to (or in replacement of) paring knives.
Unlike chef's knives designed in the West, Kom-Kom drew some of its inspiration from the Japanese usuba knife. Bearing certain similarities to a butcher's knife, Kyoto usuba knives are much thinner and intended mainly for cutting a wide range of vegetables. The Eastern preference for lighter knives is mainly due to the need for accommodating different types of cuisine.
Kom-Kom knives are produced to an exceedingly high standard, boasting superior specifications to their cheaper selling variant, Kiwi. Known by reputation to be the very best knives that Thailand has to offer, Kom-Kom's designs are both attractive and practically suited for everyday use. Their stainless steel blades consist of a dense carbon alloy that is first heat treated and then carefully tempered to ensure long-lasting sharpness and unrivaled durability.
Product Features
Genuine Kom-Kom brand knives imported from Thailand by Temple of Thai USA
All purpose blade, used for cooking as well as fruit carving
High-quality hardened stainless steel blades
Characteristical Asian knife design
Well balanced with triple-riveted fine wooden handle
Note: Usually ships within 2-3 business days
Availability: Ships in 2-3 business days from Los Angeles, California.
Category: Cooks Knives & Cleavers, Chef's Knives
SKU: 6255100269
UPC: 88511300603