8" Chefs Cleaver Knife, #21

,

Kom Kom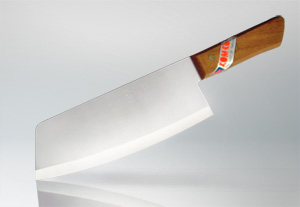 Well known to be one of the most important assets of a Thai kitchen, the Thai chef's knife is light, versatile, and slightly curved towards the tip.
Like all chef's knives, the Thai chef's knife (Kom-Kom #21) is an evolution of the butcher's knife, which is also very popular in Thailand. Designed as an all-purpose blade, the blade is approximately eight inches long and about two and a half inches wide. Unlike the closely related rectangular Kom-Kom chef's knife, the #21's edge is slightly curved towards the tip, enabling the chef to chop easily with the heel of the blade. Amongst its many uses, the Thai chef's knife is primarily intended for executing common tasks such mincing, slicing, chopping vegetables, slicing meat, and disjointing large cuts of beef or pork. Some fruit and vegetable carvers also prefer to use chef's knives in addition to (or in replacement of) paring knives.
Unlike chef's knives designed in the West, Kom-Kom is much more heavily influenced by the Japanese Santoku knife which is lighter, thinner, and ever so slightly shorter than Western equivalents (the Kom-Kom #21 is about half an inch shorter than most Western chef's knives). The Eastern preference for lighter knives is mainly due to the need for accommodating different types of cuisine. Like the Santoku, Kom-Kom's #21 is primarily designed for cutting fish, vegetables, and more lightly boned meats such as chicken. Clean cuts of beef and pork are rarely used in Thai cooking and therefore there is no need for a closer resemblance to the knife's antecessor.
Kom-Kom knives are produced to an exceedingly high standard, boasting superior specifications to their cheaper selling variant, Kiwi. Known by reputation to be the very best knives that Thailand has to offer, Kom-kom's designs are both attractive and practically suited for everyday use. Their stainless steel blades consist of a dense carbon alloy that is first heat treated and then carefully tempered to ensure long-lasting sharpness and unrivaled durability.
Product Features
Authentic Kom-Kom knives imported from Thailand
All purpose blade; used for cooking as well as fruit carving
High-quality hardened stainless steel blades
Characteristically Asian design
Well balanced with triple-riveted fine wooden handle
Also see: Classic Thai Cooks Knife, 8", Kiwi brand and 8" Chef's Knife, Rectangle Blade, #22, Kom Kom
Note: Usually ships within 2-3 business days
Availability: Ships in 2-3 business days from Los Angeles, California.
Category: Cooks Knives & Cleavers, Chef's Knives
SKU: 6255100271