Set: Two 8" Chef's Knives

,

Kom Kom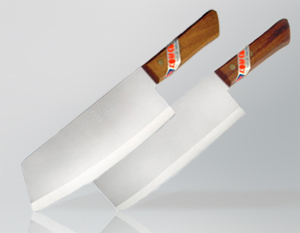 Kom-Kom's chef knives are extremely popular in Thailand. Designed as all-purpose blades, both of the stainless steel blades in Kom-Kom's chef knife set are seven and a half inches long with double-riveted wooden handles. Though these knives are often used interchangeably in busy Thai kitchens, the rectangular blade chef's knife (Kom-Kom #22) is essentially better suited for cutting pork and beef whilst the Thai chef's knife (Kom-Kom #21) is particularly good for slicing large quantities of vegetables and for working with poultry.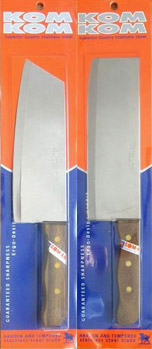 The designs of both knives are heavily influenced by Japanese Santoku and Usuba knives (which can now commonly be seen in large commercial areas in Bangkok and Chiang Mai). Both knives are considerably lighter than Western equivalents due to the different requirements of Asian cuisine. Even though each of these knives were designed with different purposes in mind there are no strict rules when it comes to chefs knives; the uses of each depend largely upon the personal preferences of the chef.
Kom-Kom knives are produced to an exceedingly high standard, boasting superior specifications to their cheaper selling variant, Kiwi. Known by reputation to be the very best knives that Thailand has to offer, Kom-kom's designs are both attractive and practically suited for everyday use. Their stainless steel blades consist of a dense carbon alloy that is first heat treated and then carefully tempered to ensure long-lasting sharpness and unrivaled durability.
Product Features
Authentic Kom-Kom knives imported from Thailand
All purpose blades; used for fruit carving and as kitchen knives
High-quality hardened stainless steel blades
Characteristically Asian design
Well balanced with triple-riveted fine wooden handles
Availability: Ships in 2-3 business days from Los Angeles, California.
Category: Cooks Knives & Cleavers, Kom Kom Knife Sets, Chef's Knives
SKU: 6255100270