Flexible Thai Peeling Knife

,

Kiwi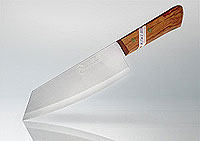 Flexible Thai Peeling Knife, Kiwi brand Thailand is made from high-quality stainless steel blade with a wood handle and is ideal for peeling melons and other fruits in preparation for the fine art of fruit and vegetable carving. This knife is also suitable for general cutting or slicing of fruits, vegetables, meats and other kitchen tasks.
Note: Usually ships within 2-3 business days
Availability: Ships in 2-3 business days from Los Angeles, California.
Category: Cooks Knives & Cleavers, Chef's Knives
SKU: 6255000630