Garnishing Knife & Tool Set & Step-by-Step Book

,

Kom Kom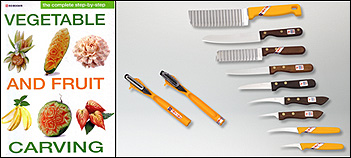 Buy the complete Kom-Kom Fruit & Vegetable Garnishing Knives and Tools Set with the detailed Complete Step by Step Vegetable and Fruit Carving book for a special discount price.
This eleven piece carving knife set imported directly from Thailand, includes all the essential tools you need to create beautiful detailed vegetable and fruit carvings. The set includes 2 of the handy Miracle Knives, 2 short bladed seeding knives, 2 paring knives, 2 wavy-edged cutters, and 3 longer knives for peeling.
Produced by the well-respected Kiwi & Kom-Kom knife company based in Bangkok, see the knife and tool dimensions.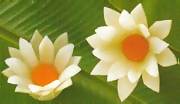 To help you get started carving, we offer the incredible Step-by-Step Vegetable and Fruit Carving Book. This book includes step-by-step color photographs detailing how to create both simple and intricate carvings and garnishes. View step-by-step carving examples from this book: Carved Lotus-Shaped Fruit Bowl, Easy Carrot Leaf Carving, Cucumber Leaf Carving and Watermelon Basket.
Each finished carving is shown in a gorgeous full page photograph, so that you can study the details of how it was created. Please see the link above for more details about this excellent book.
Save $$$: This carving set is high in quality but not high in price like European brand carving knives and tools, making it a great gift for an aspiring garde manger, hobbyist, or caterer.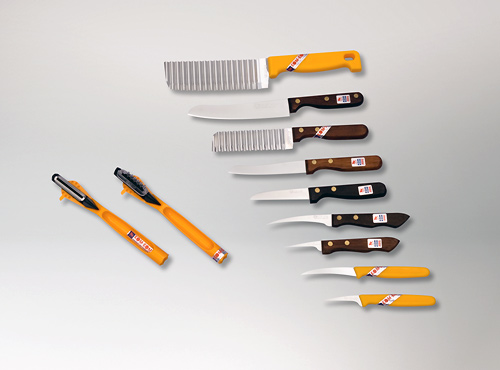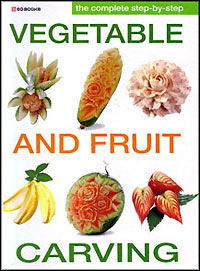 The purpose of fruit and vegetable carving is to make food more attractive, more appetizing, and also easier to eat. Vegetables are first delicately carved, then cooked, and finally arranged attractively to decorate the dish of which they are a part of. Needless to say, guests are greatly pleased to be honored with such a gracious welcome, displaying as it does the good feeling and hospitality of the maker.
Decorating fresh, well formed and colorful fruits and vegetables through artistic carving is by no means difficult; all it takes is concentration.
An excerpt from The Complete Step-by-Step Vegetable and Fruit Carving edited by Nidda Hongwiwat, © 1999 Sangdad Publications.
This carving knife and tools kit includes the following:
Also included...
These knives are also available individually and in smaller sets such as Kom-Kom's Sets A, B, and C.
International customers: Please use our online cart to calculate shipping costs via UPS for our Thai cookbooks, carving tools, and books. Also be sure to see our international shipping page for details about how to choose USPS (United States Postal Service) for cheaper shipping rates outside of the USA!
This fruit carving tool set is also available without the book.
Availability: Ships in 2-3 business days from Los Angeles, California.
Category: Kom Kom Knife Sets, Garnishing Tool Sets
SKU: 6250000000