Fruit & Vegetable Garnishing Knife & Tool Set, 11 Piece

,

Kom Kom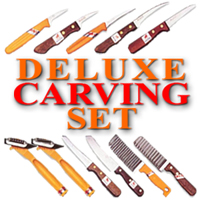 This Kiwi & Kom-Kom Fruit & Vegetable Garnishing Knives and Tools Set is the one-click solution for any fruit carver who wants to have Kom-Kom's full assortment of carving knives at their disposal. Durable, versatile, and cost effective, this knife and tool set is one of our most popular items.
The complete carving set consists of eleven authentic Kom-Kom brand knives, all expressly manufactured for the purpose of fruit and vegetable carving. This set includes two types of seeding knife, two types of bird's beak knife, three lengths of paring knife, two types of crinkle cut knives, a miracle peeler, and a miracle slicer. This set is also available with a carving book.
Traditional Thai fruit carvers must often spend hours of concentration ensuring that their carving works are well carved and unblemished. During that time, it is important for carvers to have all of the tools they need; one mistake can render a carefully constructed piece unusable. With the eleven piece you will always have the right knives and tools at hand with which to refine your style as you begin to take advantage of the subtle differences between each one of them. The exact length of each knife blade in the set is as follows: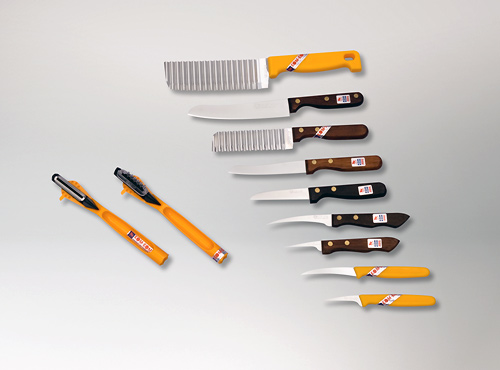 Also included...
These knives are also available individually and in smaller sets such as Kom-Kom's Sets A, B, and C. It may be worth noting that in order to carve fruit and vegetables as illustrated in the Temple of Thai's fruit carving books to get started, you will require three different types of carving knives: a seeding knife, a bird's beak knife, and a paring knife.
Kom-Kom knives are produced to an exceedingly high standard, boasting superior specifications to their cheaper selling variant, Kiwi. Known by reputation to be the very best knives that Thailand has to offer, Kom-Kom's designs are both attractive and practically suited for everyday use. Their stainless steel blades consist of a dense carbon alloy that is first heat treated and then carefully tempered to ensure long-lasting sharpness and unrivaled durability.
Knife & Tool Set Features
Genuine Kom-Kom brand knives imported from Thailand by Temple of Thai, USA
A useful assortment of fruit and vegetable carving knives and tools
High-quality hardened stainless steel blades
Excellent value for money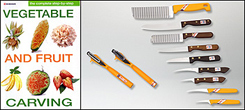 Buy Everything you need in one click! Our Step-by-Step Book & Garnishing Set includes both this Kiwi & Kom-Kom Fruit & Vegetable Garnishing Knives, Tools Set and our best selling carving book, Complete Step by Step Vegetable and Fruit Carving. This set contains all the necessary tools to help guide you from novice level to the stage of an intermediate carver.
This Kiwi Kom-Kom 11 Piece Knife & Tools Set is recommended by Saveur.com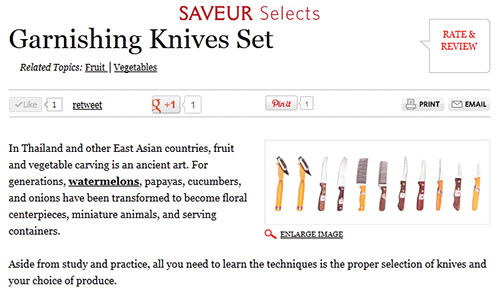 Availability: Ships in 2-3 business days from Los Angeles, California.
Category: Kom Kom Knife Sets, Garnishing Tool Sets
SKU: 6254100202
UPC: 88511300615