Complete Step by Step Vegetable and Fruit Carving

,

Sangdad Books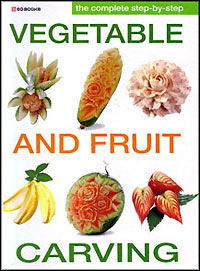 This comprehensive carving book will guide you step-by-step through eighty-four beautiful fruit and vegetable carvings, all illustrated with full-color photographs and practical, easy-to-understand instructions. One of the most highly illustrated fruit and vegetable carving books ever written, it offers you a selection of carving designs that are both elegant and uncomplicated.
Both amateurs and professionals will use these techniques, from a simple rose to much more elaborate carvings like dahlia blossoms. Many of these designs are beautiful and simple new concepts which will look just as good in a professional carving display as on a family table as a plate garnish.
Anthropologist and fruit carving aficionado Nidda Hongwiwat introduces her book with photos of carving tools, basic carving principles, and a history of Thai fruit and vegetable carving. She also explains how to select the best fruits and vegetables suitable for carving, and how to store your finished carving.
Approximately 85 unique carvings are presented using both fruits and vegetables including:
Vegetables: Carrots, pumpkins, tomatoes, cucumbers, Chinese radishes, eggplants, spring onions, chilies, radishes, and more.
Fruits: Apples, pineapples, papayas, canteloupes, guavas, watermelons, jicamas (or yam bean tubers), mangoes, rose apples, sapodillas, and jujubes.
From the introduction:
Fruit and vegetable carving is a venerable tradition that has been passed down from ancient times. Fruit and vegetable carving is considered one of the ten traditional Thai crafts. It is thus held to be an ancient art and is used in making food offerings for monks, entertaining guests, ordinations, weddings and royal funerals.
This traditional craft has developed in the palaces of kings since the Sukothai Period over 700 years ago. At that time it figured in the celebration of the Floating Lantern Festival, or Loi Krathong, at the full moon of the twelfth lunar month. The legendary originator of the festival, Lady Nopphamat, or Thao Sichulalak, decorated her floating lantern with a profusion of flowers and birds, swans, rabbits and many other animals carved from fruit and vegetables.
Examples of the step-by-step carving from the book:
Customer comments about this book:
All pictures in full color. Clear instructions. Pictures are a good guidance. And so good that the writer has grouped fruit and vegetable. In short: perfect book, for professionals and for beginners as well! Karen W.
Complete Step-by-Step Vegetable & Fruit Carving Book, Sangdad Publications © 1999, Hard cover, 190 glossy pages with full page photographs, imported from Thailand. ISBN-10 9747162601; ISBN-13 978-9747162608.
International customers: Please see our online check out for UPS shipping costs and also see our International Shipping page for a less expensive method of shipping.
Also see: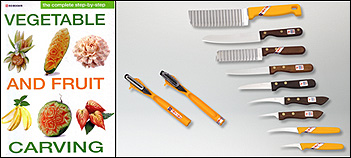 Book & Tool Set
This book combined with carving knives and tools makes an excellent starter kit or gift idea at a discount price.
Availability: Ships in 2-3 business days from Los Angeles, California.
Category: Fruit Carving Books
SKU: 7000450103