Fruit Carving Cantaloupe
Garnish your holiday table with this beautiful centerpiece!
This cantaloupe melon fruit carving is just one step away from the beginners level of carving. Even though it looks sophisticated, it is actually as easy as peeling the melon skin without cutting all the way through, cutting small notches to form leaves and then filling the bowl with melon balls. For holiday colors fill the bowl with red watermelon balls and cherries.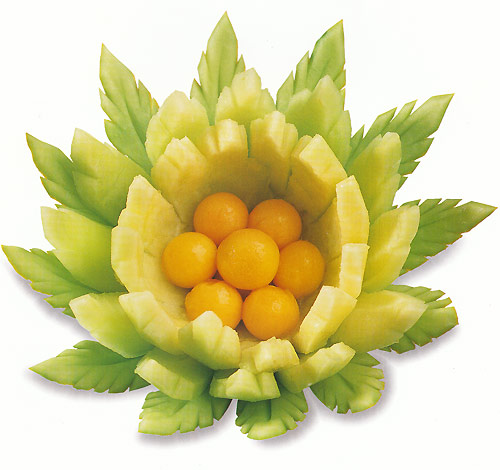 When choosing a candidate for carving, pick a cantelope that is not yet ripe. The skin should be pale green or yellow without wrinkles or scratches. Wash the fruit before you begin carving. When the carving is complete, briefly immerse in ice cold water to firm and spread the petals. Cover with a light cloth which has been dipped in very cold water and wrung until damp. Store the cloth covered carving refrigerated in a closed container until serving time. This way you can prepare the carving the day before your party.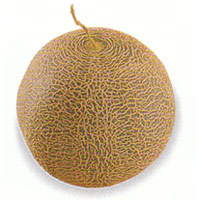 Materials
One small cantelope, which is not yet ripe
Tools & Knives
Instructions
Make a shallow slice to cut off the stem end.
Make cuts down the side of the melon to divide it into 12 uniform sections. Cut under these sections to make the outer ring of 12 petals. These should be about one quarter of a centimeter thick.
Divide the melon into 12 sections centered between the petals of the outer ring to make a second and then a third ring of petals. Next, remove the seeds and membrane at the center.
Notch the borders of the petals attractively, starting with the middle ring and then moving to the inner ring.
Notch the borders of the petals of the outer ring more deeply and cut a shallow groove in each.

Learn Step-by-Step Carving with this Excellent Book!
The Complete Step-by-Step Vegetable & Fruit Carving Book
, Sangdad Publishing Co. © 1999, available for purchase in our
fruit carving
store along with knives & DVD's.
"I never expected that fruit carving could be so easy!" ~ Chef Bryan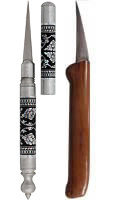 To create this fruit carving or to find out more on Carving Cantelope, we recommend: