Portable 4 Blade Professional Fruit Carving Knives Set

,

Temple of Thai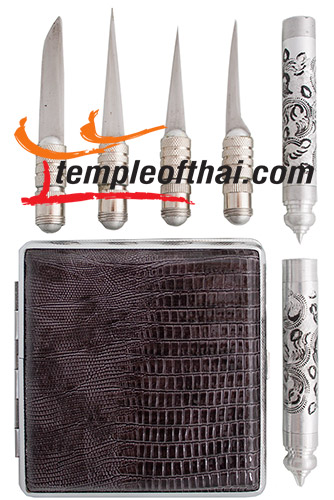 This handy Thai professional fruit and vegetable carving knife set comes in a pocket-sized hard carrying case which is both portable and protective of the super-sharp flexible blades. The compact decorative case measures just under four inches square and securely holds the interchangeable four carving blades and two metal handles (total of 6 pieces). The blade are changed by screwing in and out of the base handles. With two knife handles this set is even more convenient to use without losing its portability.
Each sharp carving blade is unique in shape, one of the four being the popular bird's beak style. The small square carry case is covered in a smooth faux snakeskin print so that it is easy to clean. Inside an elastic band holds the blades and handles securely in place for safe storage and transport. The clasp snaps shut tight so that you can keep this set on hand at all times in your pocket, ready to practice the fine art of fruit carving anytime.
Dimensions: Length metal handles (two per set): 3 3/8" (8.5cm); approximate lengths stainless steel blades (4 per set): straight blade 1 3/4" (4.3 cm); bird's beak blade 1 3/4" (4.5 cm); rounded edge 2" (5cm); straight 2 1/4" (5.5cm); square carrying case 3 7/8" (9.5 cm); total weight 6oz (160g)
Availability: Ships in 2-3 business days from Los Angeles, California.
Category: Handmade Carving Knives
SKU: 6250000838