Set: Screw Cap Fruit Carving Knife & Carving Knife in Wood Sheath

,

Temple of Thai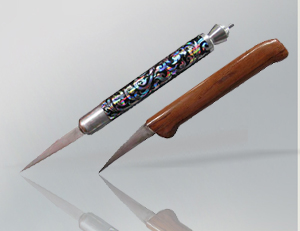 Both of these professional fruit and vegetable caving knives are crafted by hand in Thailand by skilled blade-smiths. These two handmade knives are otherwise quite different in terms of design and application. Lightweight, durable, and comfortable to hold, these stainless steel blade knives are both intended for working on detailed fruit and vegetable carvings. However, whilst the wooden handled carving knife is equipped with a highly favored bird's beak blade (the single most important fruit carving blade of all) the flexible detail knife has a flexible blade that can be altered according to the needs and desires of the fruit carver. It is cherished for its ability to be wielded like a pen, due to its tubular-shaped handle. Both knives also comes with their respective sheaths in order for the blades to stay protected from foreign contaminants and to retain their incredible sharpness.
Beautifully crafted works of art in their own right, both knives in the handmade knife set are the proud creations of skilled Thai knife makers. Do not be fooled by cheap imitations or knockoffs from other countries. Thailand is the home of the some of the most refined fruit and vegetable carving artists in the world. These hand made knives are the outcome of years of passionate and loving pursuit of this fine art throughout the country.
See a larger image of these carving knives at the bottom of this page.
We recommend hand-washing these knives in plain or mild soap water and drying before storing. Not dishwasher safe!
Product Features
High-end imported carving knives from Thailand
Beautifully crafted by hand by Thai artisans
Excellent collectors items beloved for their fine quality and beauty
High-quality hardened stainless steel blades
Useful as a pair: one detail knife and one bird's beak knife
Availability: Ships in 2-3 business days from Los Angeles, California.
Category: Handmade Carving Knives
SKU: 6251100262
UPC: 736211929068