Traditional Thai Carving Knife

,

Product of Thailand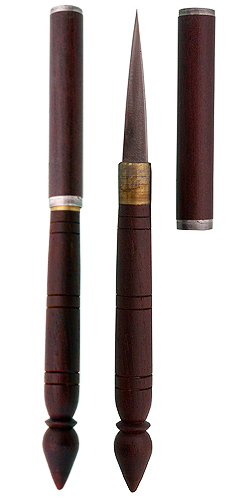 Our Traditional Thai Fruit and Vegetable Carving Knife with wood handle is both light weight and stylish. Covered with a cap when not in use, the sharp blade is protected from damage and the sharp point is not dangerous to store. Decorated with a metal ring around the circumference of the top of the knife, the handle is wood, which may be preferred by some compared to the other knives here which are mainly made with metal handles. The cap is covered with a sticker with a wood grain appearance to complete and compliment the fine design of this attractive carving knive.
What is especially desireable about this fruit and vegetable carving knife is its light weight, which helps to prevent fatigue when carving for long hours and is therefore excellent for detailed work, weighing about 9 ounces with the cap and just 7 ounces without. The dimension of the handle is contoured to "fit" the hand better to make carving easier, with the length of the knife just over 6 inches and the blade being 1.7 inches.
Dimensions: Total length: 6 1/4"; cap 2 5/8"; knife 5 7/8"; blade 1 7/8".
Availability: Ships in 2-3 business days from Los Angeles, California.
Category: Handmade Carving Knives
SKU: 6251000651