Silver Demi Vegetable & Fruit Carving Knife

,

Temple of Thai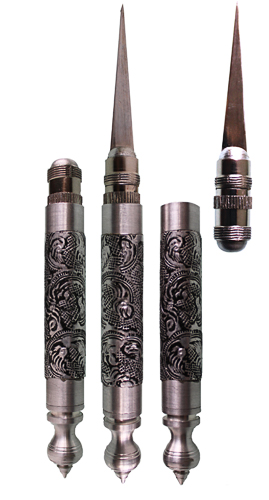 This Thai carving knife is a smaller 'mini' or Demi version of our Professional Thai Flexible Carving Knife. Much shorter then the Thai Flexible Knife, it is perfect for keeping in the pocket for spontaneous bursts of creative fruit and vegetable carving - making it a must have tool for the professional chef garde manger.
Our Demi knife comes in two parts: the handle with a pointed tip and the blade, which is screwed into the handle for use. To store, the blade end is inserted into the hollow handle and screwed securely. The handle is hand-embossed by Thai artisans in a traditional silver and black pattern (note it is not made of silver). The straight screw-cap, which is the same size as the knife handle, protects the blade and you. The pointed tip of the handle enables the carver to lightly trace designs into the surface of fruits and vegetables before commencing carving.
Made of strong lightweight stainless steel metal, this demi detail knife is well-balanced and pleasing to work with. We recommend hand-washing these knives in mild soap water and carefully drying with a towel before storing. Not dishwasher safe
Dimensions: Total length closed: 3 7/8"; total length open: 5 3/4"; handle length 3 7/8"; blade length 1 7/8".
Availability: Ships in 2-3 business days from Los Angeles, California.
Category: Handmade Carving Knives
SKU: 6251000652
UPC: 794504280104