Carving Knife in Wood Sheath

,

Temple of Thai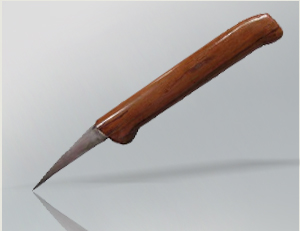 Handmade by a skilled bladesmith in Thailand, our imported wood handle Thai bird's beak carving knives are second to none and are available online exclusively from Temple of Thai. Designed specifically for the art of fruit and vegetable carving, these blades are suitable for both beginners and experts alike.
These Thai carving knives are excellent tools for carving because they are lightweight, durable and comfortable to hold. Though it is advisable for carvers to also own at least one seeding knife and paring knife, the bird's beak is always the most important tool and the most used of these three essential types of carving knives.
As well as being the very best fruit carving knives available on the market, these knives are also beautifully crafted works of art in their own right. This carving knife has been designed by professional Thai fruit carvers in Thailand and is produced under the specifications of one of the finest fruit carving schools in Bangkok.
After cleaning, the two-inch blade slides tightly and easily into its wooden sheath cap, protecting it from foreign contaminants and keeping the blade super sharp. We recommend cleaning by hand with plain or mild soap water and immediately drying before storing to keep the wood and blade in top condition. Not dishwasher safe!
Like most bird's beak knives, handmade wood-handled knives are sharpened on one side of the blade only. Pictured here is the knife both with and without its protective wood cover (please note we will only send you only one knife, not two as in the picture). Please see the bottom of this page for a larger image.
The New York Times review of the Temple of Thai Carving Knife in Wood Sheath: "Fruit and vegetable carving is an ancient craft honed for Thai royal feasts and ceremonies. The tradition still thrives. With this tiny, beak-like knife, turn radicchio into dahlias, cucumbers into white lotuses and tomatoes into blossoming roses." For another fruit carving tool review from the New York Times 'T:STYLE' Magazine, see our Miracle Knives.
Product Features
Suitable for both beginning and expert carvers alike
Beautifully crafted by hand in Thailand (beware inferior imitations and knockoffs)
Excellent collectors item due to its uniqueness and quality design
High-quality hardened stainless steel blade
Comes with tight wooden sheath which protects against contaminants and keeps the blade sharp
Dimensions: Total length covered 5 5/8"; uncovered 5 1/4"; wooden handle length 3 1/2"; stainless steel blade length 1 3/4".
Availability: Ships in 2-3 business days from Los Angeles, California.
Category: Bird's Beak Knives, Handmade Carving Knives
SKU: 6251100248